Hello booklovers! I'm taking part in #SMASHYOURTBR readathon hosted by The Cured Books. The are no rules, you can read as many books you want. For readers who loves challenge there are some challenges and you are free to ignore them or join if you like. For sure I'm joining.
But the main purpose of this readathon is to smash our TBR!
If your taking part in rhis readathon use the #SmashYourTBR hashtag on Twitter!
CHALLENGES:
1. Read a book on your favorite subject.
2. Read a book that's been on your TBR since forever (more than a year).
3. Read a book from a genre that you don't usually reach out for.
4. Read a sequel.
5. Read a book that's been recommended to you by a friend.
#1. #TheRealCinderella by Yesenia Vargas
If I have to choose something on my favorite book subject it has to be about fairy tales retelling, something connected to Asian culture or mythology.
I haven't read anything connected with fairy tales in ages so I'm choosing modern retelling of Cinderella which was my favorite tale when I was a kid.
#2. And Then There Were None by Agatha Christie
This is one of these unfortunate books that are on my shelf since forever. And even I heard only amazing reviews I still haven't started it.
This is the third readathon on which I'm trying to finally read it. Fingers cross it will happen this time!
#3. The Disaster Artist by Greg Sestero
I don't usually read biographies and memoirs. But after watching The Room movie (yes, it's so bad that it should be on the must to watch list of everyone) and The Disaster Artist movie (which is amazing and James Franco deserved Golden Globe for his role) I wanted to know more because obviously movie even if it was great, it didn't show everything.
I own a physical book and audiobook of it. Maybe I will decide to listen to it because apparently Greg Sestero can imitated perfectly Tommy's Wiseau voice.
#4. Tell Me No Lies by A.V. Geiger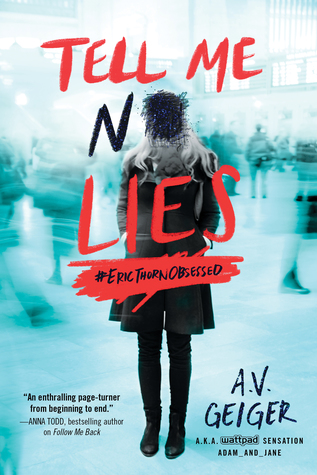 After reading the first book I was so hyped that I wanted read the second one immediately. Unfortunately I had to wait a year for it to be published and of course I forgot about it.
Luckily this challenge make me look at all books on my TBR list and as soon I realize this book is waiting for me I bought it right jkaway.
#5. Good Omens by Terry Pratchett, Neil Gaiman
Thanks for my friend from Lemurilla  my adventure with Terry's Pratchett books has started. She is also the one who recommended me this book but I still haven't read it.
Now is the best time for it because next year there's gonna be premier of TV series based on this book and David Tennant is casted as Crowley so there is no way I'm going to miss it!
And probably that's my whole list because the day I decided to take part in this readathon was also the day when my friends decided that they should visit me this weekend so I won't have to much time to read. If I manage to read more I will choose something from my ARC TBR.
Is anyone also taking part in this readathon? If so I hope to hear what are you are reading!