Hello everyone!
It's already November and of course I'm late with new post. As an excuse I can say that I'm spending the beginning of this month at my hometown and since yesterday I'm fighting with Internet. I'm not even sure if this post go online when I finish it but I hope this Internet will somehow handle it.
Books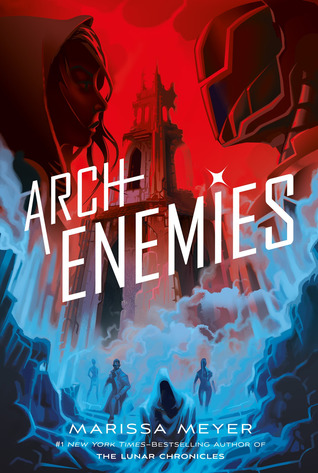 Archenemies by Marissa Meyer
Publication: November 6th 2018 by Feiwel & Friends
Genres: Young Adult, Fantasy, Sci-Fi
Time is running out.
Together, they can save the world.
But they each other's worst nightmare.
In Renegades, Nova and Adrian (aka Insomnia and Sketch) fought the battle of their lives against the Anarchist known as the Detonator. It was a short-lived victory.
The Anarchists still have a secret weapon, one that Nova believes will protect her. The Renegades also have a strategy for overpowering the Anarchists, but both Nova and Adrian understand that it could mean the end of Gatlon City – and the world – as they know it.
Marissa Meyer is one of my favorite authors and I just can't wait to read her another book! And can you see how stunning this cover is?!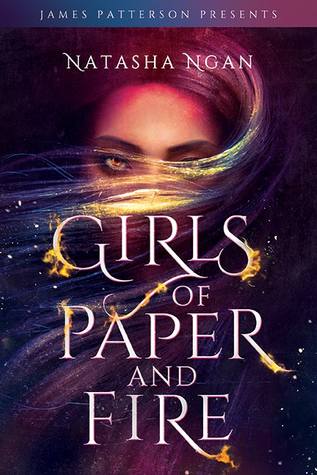 Girls of Paper and Fire by Natasha Ngan
Publication: November 6th 2018 by Jimmy Patterson Books
Genres: Young Adult, Fantasy
Each year, eight beautiful girls are chosen as Paper Girls to serve the king. It's the highest honor they could hope for…and the most cruel.
But this year, there's a ninth girl. And instead of paper, she's made of fire.
In this lush fantasy, Lei is a member of the Paper caste, the lowest and most oppressed class in Ikhara. She lives in a remote village with her father, where the decade-old trauma of watching her mother snatched by royal guards still haunts her. Now, the guards are back, and this time it's Lei they're after–the girl whose golden eyes have piqued the king's interest.
Over weeks of training in the opulent but stifling palace, Lei and eight other girls learn the skills and charm that befit being a king's consort. But Lei isn't content to watch her fate consume her. Instead, she does the unthinkable–she falls in love. Her forbidden romance becomes enmeshed with an explosive plot that threatens the very foundation of Ikhara, and Lei, still the wide-eyed country girl at heart, must decide just how far
she's willing to go for justice and revenge.
Another book with amazing cover but I swear it's not the reason why I'm waiting for this one! I've seen so many good reviews from people who got this ARC and I'm getting really impatient when can I finally buy my copy. Luckily 6th November is close.

Empress of All Seasons by Emiko Jean
Publication: November 6th 2018 by HMH Books for Young Readers
Genres: Young Adult, Fantasy
Each generation, a competition is held to find the next empress of Honoku. The rules are simple. Survive the palace's enchanted seasonal rooms. Conquer Winter, Spring, Summer, and Fall. Marry the prince. All are eligible to compete—all except yōkai, supernatural monsters and spirits whom the human emperor is determined to enslave and destroy. 
Mari has spent a lifetime training to become empress. Winning should be easy. And it would be, if she weren't hiding a dangerous secret. Mari is a yōkai with the ability to transform into a terrifying monster. If discovered, her life will be forfeit. As she struggles to keep her true identity hidden, Mari's fate collides with that of Taro, the prince who has no desire to inherit the imperial throne, and Akira, a half-human, half-yōkai outcast.
Torn between duty and love, loyalty and betrayal, vengeance and forgiveness, the choices of Mari, Taro, and Akira will decide the fate of Honoku in this beautifully written, edge-of-your-seat YA fantasy.
You can't expect that I would ignore fantasy book with Japanese vibes? Especially if there's also royalty.

This Is What It Feels Like by Rebecca Barrow
Publication: November 6th 2018 by HarperTeen
Genres: Contemporary
It doesn't matter what the prize for the Sun City Originals contest is this year.
Who cares that's it's fifteen grand? Who cares about a gig opening for one of the greatest bands to ever play this town?
Not Dia, that's for sure. Because Dia knows that without a band, she hasn't got a shot at winning Sun City. Because ever since Hanna's drinking took over her life, Dia and Jules haven't been in it. And ever since Hanna left — well, there hasn't been a band.
It used to be the three of them, Dia, Jules, and Hanna, messing around and making music and planning for the future. But that was then, and this is now — and now means a baby, a failed relationship, a stint in rehab, all kinds of off beats that have interrupted the rhythm of their friendship. No contest can change that. Right?
But like the lyrics of a song you used to play on repeat, there's no forgetting a best friend. And for Dia, Jules, and Hanna, this impossible challenge — to ignore the past, in order to jumpstart the future — will only become possible if they finally make peace with the girls they once were, and the girls they are finally letting themselves be.
Rebecca Barrow's tender story of friendship, music, and ferocious love asks — what will you fight for, if not yourself?
After all these fantasy books I just have to add some contemporary. Mainly because I have tendency for reading contemporary and romance books in the autumn. And this one is also about music so I hope I will find it really enjoyable.
Movies
There is also a few movies which I can't wait to watch. Maybe in other countries some of them was already released but I have to wait a little.
Bohemian Rhapsody – November 2nd
As a big  fan of Queen this is a must watch movie for me. I hope I won't be disappointed.
The Nutcracker and the Four Realms – November 2nd
The Nutcracker always reminds me of Christmas and I dream to see someday performance of Russian National Ballet. Maybe I will next year but for now this movie will be enough.
Fantastic Beasts: The Crimes of Grindelwald – November 16th
Do I have to even explain this one?! I'm waiting for it since forever!!!
A Star is Born – November 30th
It's been ages since I watched movie about music and this one seems interesting.
Unfortunately (or maybe fortunately because I don't have any free time) there is no TV series I'm waiting for since all of them had already started and there's already too many of episodes that I have to watch.
Do you have some books or movies or something else that you are waiting for?