Month ago was the most amazing day in my life. Most of the time I don't believe that I happened. It seems so surreal that maybe it was just a dream.
Exactly 4 weeks ago I was at BTS concert and it was so much more that I expected. If someone told me some time ago that I would travel over 1000 km to see some singers, actors etc. I would laugh at them. But I did it. It was most crazy and incredible experience. And I would love to do it again.
It wasn't only just about seeing them live on the stage and hearing them singing. For me it was also opportunity to visit Amsterdam which is so beautiful city (and I will write about it more in other post) and to meet wonderful people with whom I still keep in touch.
Because of my love for BTS this tag is perfect for me so I'm excited to do it. I love all of them but two of them have special place in my heart: Namjoon (RM) and Hoseok (J-Hope) and I'm unable to choose one of them.
Rules:
Tag  @beaucoupbooks in your post so she can see!
Feel free to use the graphics below.
Tag at least one other person to do this tag but really, you don't need to be tagged to do this post, anyone can.
My love for books began so many years ago when I was a child so I'm not even sure if I can choose one book. But for this tag I will use 'Anne of Green Gables'. I reread this book so many times and I still love it.
The series The Infernal Devices is one of my favorites. Cassandra Clare did such a great job with creating world of shadowhunters.
This one is actually pretty hard for me because I usually don't change my feelings so drastically about books or characters. While writing this sentence I'm still going through list of books I read and I'm trying to find someone fitting into this category. And because I couldn't find anything better I will go with character from manga: Sasuke Uchiha.
In the beginning of manga 'Naruto' I really loved Sasuke. He was mysterious genius but also cute kid without family. But later his obsession with revenge started to be ridiculous and from one of my favorite character he became one that I really disliked.
For this one I will choose series that I still haven't finished – Discworld. But it ended and there won't be anything more because the author, Terry Pratchett, died three years ago. Thinking about fact that someday I will finish every book from this series and there won't be next one makes me extremely sad. Terry Pratchett created something believable and I wish he had more time to share with us his world.
Even thinking about Maybe Someday by Colleen Hoover gives me this warm feeling in my chest. I remember that when I read it, I was feeling really peaceful and happy. Also the soundtrack that was created for this book doubled that feeling.
A few years ago I some things in my life changed and it was hard for me to find myself in new situation. I was looking for something to entertain myself and I decided to take part in book Uno challenge where I met many great people. The firts book I read then was The Great Gatsby.
The first book that came to my mind was The Sun is Also a Star by Nicole Yoon. While reading it I was shocked how much main character, Natasha, is similar to me. This book made me think about some things that I hadn't before.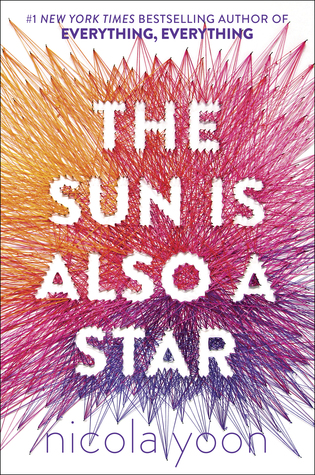 I'm not tagging anyone in this book tag because I'm not sure if along people I follow are some ARMY. But if someone want to do it, feel free to do it! Are there any fans of BTS here?